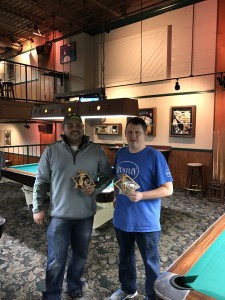 By winning the 2018 Winter Tri-State, not only did Bed Jones (Willowick OH) join Jerry Crowe (Bath NY) and Ed Hancock (Mansfield OH) as 3-time winners, he also became the first player to win the Tri-State two times in a row. The event was the start of the 8th year and the 29th quarterly event.
Ben won a two-loss bracket hot seat, going 5 and 2 in the qualifying rounds, and was seeded 11th in the Championship Bracket. Then Ben went to work, as he has done before, winning 4 straight matches (races to 6) against the best in the field. Nick Petronio (Pittsburgh PA) got to 1 followed by Joe Peterson (Meadville PA) that managed 3 in the quarter-finals. Then came Ben's challenge of the tournament in the semi-finals against past-winner and very steady player, Rob Krull (Vandergrift PA). It looked as though it was match over in the hill-hill game with Krull confronted with what appeared to be a sure out. He wound up behind a ball, failed to make a hit on the kick shot, and wound up losing the game.
Two-time winner Shayne Morrow (Erie PA) took an undefeated path to the finals by winning a No-Loss Bracket hot seat and was seeded #1 in the Championship Bracket. Shayne was playing very well anyway and then found another gear, putting down Dave Mills (Hamburg NY) 6-2 followed by Richard Burkhardt (North Canton OH) 6-2. In the semi-finals, Shayne proceeded to play near flawless defeating Joe Armeni (Albion PA) 6-0. Shayne now had accumulated, in the Championship Bracket, a combined score of 18-4 in his three matches.
If level of play from the entire day was evidence of how the finals was going to turn out, it was going to be Shayne Morrow at the top of the heap. It was not to be. Shayne Morrow could only manage to win 2 games before Ben Jones got to 6 and claimed the tournament title.
Another noteworthy achievement was Lish Hoff's (Rittman OH) performance of winning a hot-seat and advancing to the championship Bracket. The entire house was pulling for her. Ben Jones and Joe Armeni split the High Consecutive Break & Run Award with 3 each. Low break Count Average went to Shayne Morrow with 3-6.
Fourteen volunteers ran the chart, filled out score sheets, announced matches, cleaned tables, cleaned balls, ran auctions, sold jackpot tickets, and entered data into the computer. Overall the tournament ran smoothly with the player meeting and auction taking 2 hours and the tournament itself requiring 13.5 hours. The Spring Pro Event is being revamped to accommodate and encourage more players to participate. It is going to be the best yet. Everyone can look for details as the plans develop.
Full Results: http://www.goldcrownbilliardseriepa.com/…/Final-Report-Wint…